International Journal of Wood Culture
Online ISSN: 2772-3194
Print Only ISSN: 2772-3186
About the Journal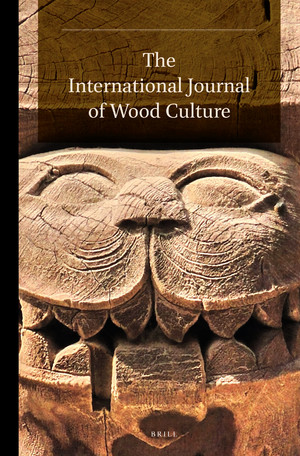 The International Journal of Wood Culture (IJWC) was initiated as Wood Culture Journal previously since 2011 by the International Wood Culture Society (IWCS), a non-profit organization based in California, United States and committed to the research, education and promotion of wood culture. The IJWC is set to be published as an open access journal by Brill, a Dutch international academic publisher, founded in 1683 in Leiden, Netherlands. IWCS and World Wood Day Foundation (WWDF), a 501(c)(3) non-profit organization also based in California, are the current sponsors of the journal.
Scope
The International Journal of Wood Culture (IJWC) publishes papers on all aspects of wood and other plant materials such as bamboo, rattan, and bark and their role in art, culture and society in past, present and future. IJWC publishes articles on the role of wood and other plant materials throughout civilization from the ancient period to present, in building and architecture, in music, arts and crafts, in religion and custom, in transportation and sport, or in providing sustainable alternatives to construction and manufacturing materials. Review articles and original research articles, multidisciplinary and discipline specific submissions are considered.
Submit an Article
Online submission: To submit an article for publication in the International Journal of Wood Culture , please visit the journal page for online submission through Editorial Manager or click here directly.
Contact
Contact Brill or send your inquiries to journal@woodculture.org for temporary assistance till August, 2021.